The Hollywood Bowl is L.A. It took me a few years to discover it. Now, summer in L.A. isn't complete for me without at least one night sitting under the stars in a Terrace Box (if I'm lucky) with three friends, sipping wine surrounded by 17,000 other Angeleans. We're a music-loving community gathering in what was once a natural amphitheater called Daisy Dell. And we're doing what locals have done since that first concert circa.1920 when two women with a piano, performed on a barn door in the dirt.
The most extraordinary list of performers have graced the Bowl's stage in the intervening years, many claiming it as their favorite venue. But it doesn't really matter who's performing.
Last night, I got to see Sergio Mendes playing Brazilian music with the Hollywood Bowl Orchestra in a tribute to the Olympics in Rio. Fireworks exploded in sync with the rhythm of the music from the top of the shell while feather-clad dancers wowed the crowd.
If you are lucky enough to sit in one of the boxes, the tradition is to arrive an hour or two before your event, cover the two tiny folding tables with linen and enjoy a picnic brought from home. Food and drinks are also available for purchase on site.
The boxes are often held by one family for generations. Molded plastic super seats and wooden benches are also quite comfortable and a less expensive option. With sites like Stubhub and hollywoodbowl.com, you can have access to seats throughout the iconic stadium at a pricepoint that you can afford — and I can say that with some confidence because The Bowl is proud of their tradition of providing affordable seats, and still sell some bench seating for a dollar a pop.

Two women performing on a barn door in the first known musical event at the Hollywood Bowl, ca.1920 (source: Unknown)
An early version of today's band shell and bench seating from 1927 (source: hollywoodphotographs.com)
The Bowl today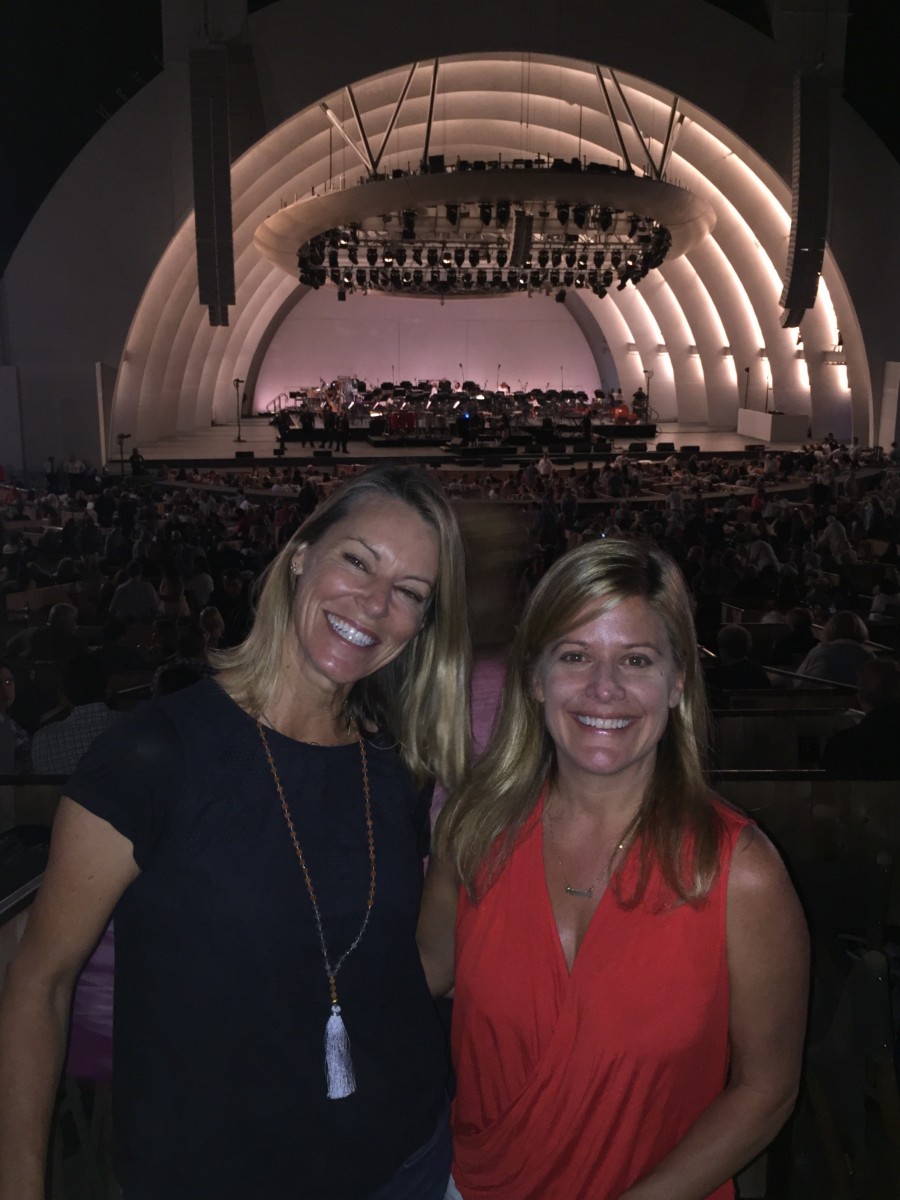 Beautiful night at The Bowl last night with my dear friend Melinda