I love wearing heels, but for daily running around they seem to make me more tired than if I wear low heeled shoes.
At 5'10" and with mostly petite (and gorgeous) friends, I end up way above the conversation wearing heels out on a girls' night. I'm even a bit taller than my husband when I wear 3 inch plus heels. So, the reality is that I'm in flats most days and nights.
Finding cute flats is a major priority for me. I have to track them down early in the season, because size 11's go fast.
These seven pairs are my go to's. I tried to choose my top three, but just couldn't draw the line! They all make me happy and lift the plainest outfits out of the mundane:
White Nikes – new to my closet but already indispensable. It's been fun mixing them into regular rotation. However, I'm not sure the beach-side area I live in is quite ready for a Nikes/maxi dress combo. I got confused looks, questions, and comments, like: "Did you walk here?" "Mmmm, how practical." Similar here.
Black ankle boots – These leather and fur boots have been brilliant. I've worn them with dresses, skirts, and jeans, and with rear entry zippers they are easy to get on and off. Cozy too, with a warm pair of socks. Sold out but stock alert available here.
Two piece d'Orsay flats with ankle strap – Color blocked and pointy, these flats are held on by the ankle strap and barely touch my feet. Their cute design brings a little extra polish to whatever I wear them with: rolled up jeans, a little black dress, shorts, a midi skirt, almost anything.
Lace-up ballet flats – Once you get the tension right on the lace-up part, these flats are very comfortable. Until you do, however, they can go from cutting off your circulation, to flopping down onto your feet. I think I have them figured out now, and I love how they add a feminine quality to a pair of shredded jeans. Similar here.
Tieks ballet flats – I admired these from afar for a long time before I splurged and bought my own pair. I picked a super safe color – navy (they all have the turquoise stripe down the back). At first I worried that they were a bit uncomfortable, and they did take a little time to relax and soften up. Now they are the first thing I grab when I'm rushing out the door. They are so comfortable, understated, and well-made. I would love to buy another pair in a more daring color. Maybe red! Find Tieks here.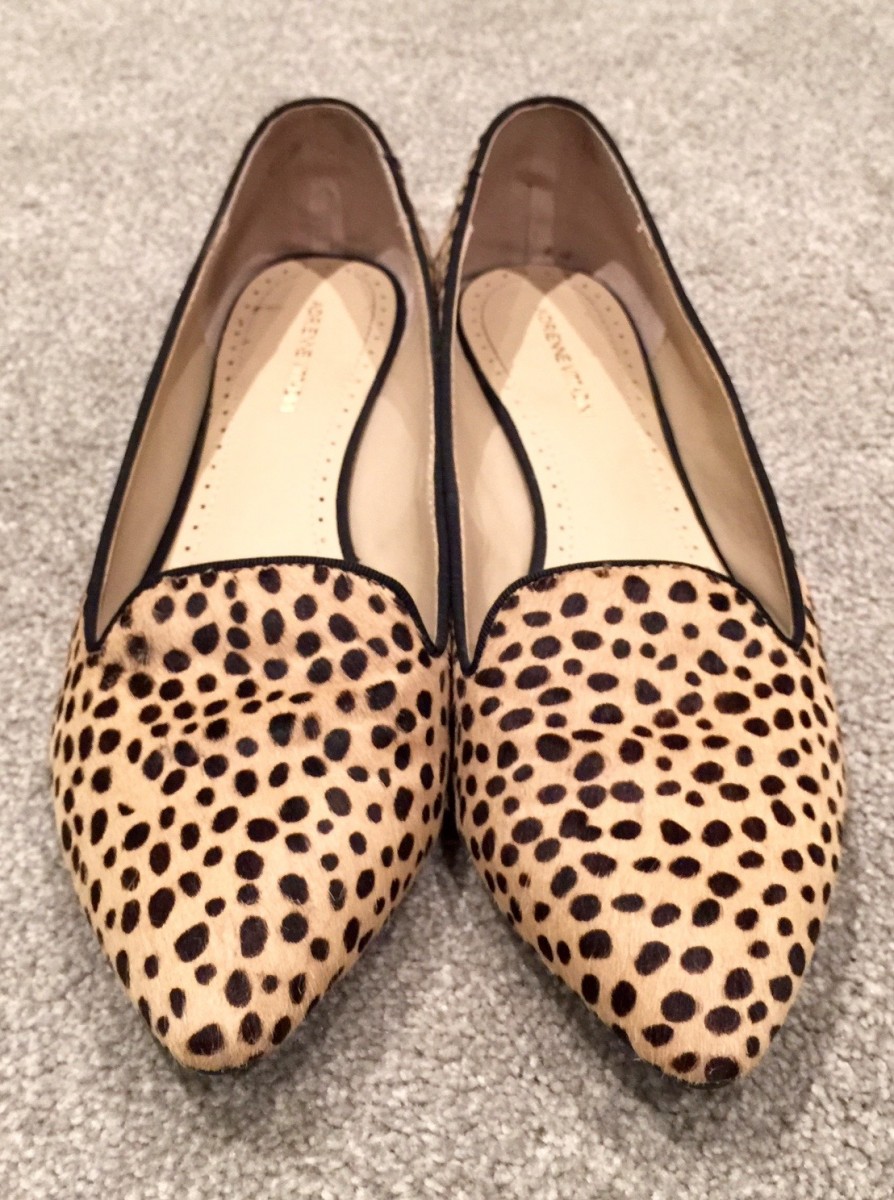 Cheetah print loafers – Meow! What a great thing to wear with black pants, or rolled up jeans, or even a little black dress. They're a good conversation starter too. Similar here.
Blue suede D'Orsay flats – these shoes have lasted incredibly well. They make the clothes you wear them with look more expensive than they are. They me look more pulled together than I am! Similar here.