Pair with a full grey maxi skirt (source: glamradar.com)
I love white tees. I'm always popping into Nordstrom Rack, Marshall's, and TJ Maxx just to see what's there. Often I'll come out with nothing, but a couple of times each season, I'll pick up a cute white t-shirt.
There are so many options within the white tee range. This year I've found a couple of Hudson ribbed tees in subtly different shapes, I love a V-neck and crew necks and white tees really do need to be replaced regularly. They work hard and they need to look clean and fresh.
One of the many reasons I love them so much is that you can style them up for evening and business-wear and down for casual. When you have a couple of white tees on hand, you always have something to wear!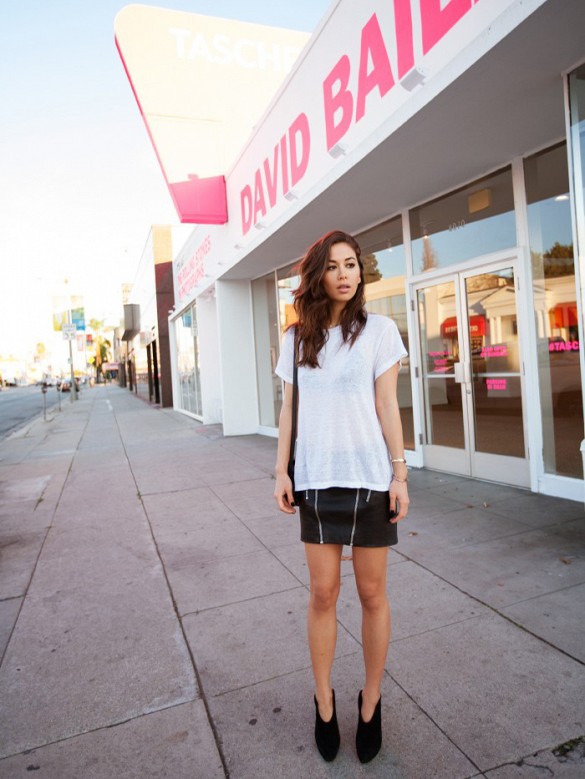 Give it some edge with a black bra, zippered mini & booties (source: whowhatwear.com)
Wear a tee under a romper (source: weworewhat.com)
With rolled sleeves, tucked loosely into colorful jeans & contrasting ballet flats (source: stylecaster.com)
Tucked into a pencil skirt (source: glamour.com)
Combine an over-sized tee with a statement necklace and drapey pants (source: urbanzen.com)
Jordana Brewster adds a black maxi skirt and heels for evening (source: Kimberly White/Getty images for Dior)
January Jones wears a full striped skirt and tan sandals (source: GONZALO/Bauer-Griffin/GC Images)
Jessica Alba in a black maxi skirt, lace up gladiators & leather jacket with a plaid shirt (source: INFphoto.com)
Add white jeans, a grey blazer & silver pumps to a simple v-neck tee (source: bloglovin.com)
 Tie it in a knot & add a colorful maxi skirt (source: candelacouture.com)
Peplum bustier over a white tee (source: pinterest.com)