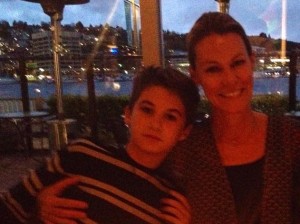 Newcomers to this brilliant holiday may love it even more than Americans who have celebrated Turkey Day all their lives. My family started, what we hope will be, a new tradition this year; flying to Seattle to join up with my little brother and his growing family.
California's relentlessly sunny weather made Seattle's grey skies seem romantic and somehow more holiday-ish. Seattle is magic and we're having a ball exploring all of the things we didn't get to see the first time: hiking in Discovery Park, finding the Fremont Troll, crossing the Ballard Locks, and sampling the wares at Pike Place Market (and adding our piece to the gross but fascinating Gum Wall, ewww!).
We dined out for Thanksgiving at a beautiful restaurant overlooking Lake Union. We started with a whiskey-crab bisque, followed by turkey with all of the trimmings and an amazing eggnog creme brulee for dessert.
We have so much to be thankful for, a baby on the way for my brother and his wife, their gorgeous new waterfront home, all of us healthy and happy and able to be together for this special holiday, and for dear friends and family spread from Australia to New Zealand, England to South Africa and across our adopted and much-loved home right here in the United States.
Happy Thanksgiving!