Co-ordinating color-block, stripe & medallion design (source: Pottery Barn)
Now is a great time to go through that taggety collection of misfits that is your beach towel collection and replace them with a plush pile of gorgeous new towels, if only because some of them are going to cost less than they would have a couple of weeks ago. Or maybe you just need one towel for yourself, or for a gift? Here are my favorites.
I bought a set of really beautiful blue striped towels from Restoration Hardware almost ten years ago. They were great quality and lasted incredibly well. However, in the last month they started disappearing. No-one knows where they went (I'm not naming names), but there's only one left. It has started to fade (only after being washed every single week for ten years!) so I was excited to see the beautiful towels available to replace them.
I really love the co-ordinating sets from Pottery Barn and Restoration Hardware featuring color blocking, awning stripes, and a medallion print. Trina Turk's Palm Springs block design is stunning as is the cheeky black and white tile print from Lands' End. Now I just need to choose…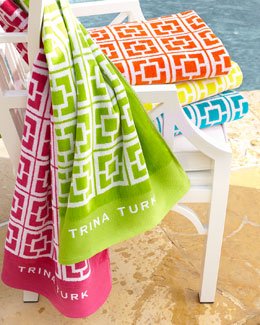 Trina Turk's geometric design in bright colors (source: Neiman Marcus)
Color-block & starfish (source: L.L. Bean)
Black & white tile (source: Lands' End)
Poppy stripes & solid collection (source: Restoration Hardware)
'Painted' blanket beach towels (source: Crate and Barrel)
Rainbow color stripe (source: Lacoste)