Going on safari through the South African bushveld is a very intimate experience. Instead of vast plains with huge herds of animals grazing and hunting (which I've heard you'll find in northern Africa), we would drive out of our camp before sunrise and come across an elephant pushing over a sapling and stripping the bark for his breakfast or some other fairytale-looking creature going about it's morning rituals.
On one of these morning drives, we stopped and sat quietly watching a large bull elephant, when the sounds of other branches snapping came closer and closer until we were surrounded by nine of these glorious, wrinkly pachyderms. It was magical. The babies were curious about us and the large bull elephants, on two different occasions, came uncomfortably close, scraping against the car and our tracker, Edwin. That's when it's best to very slowly back away and try to calm your thumping heart!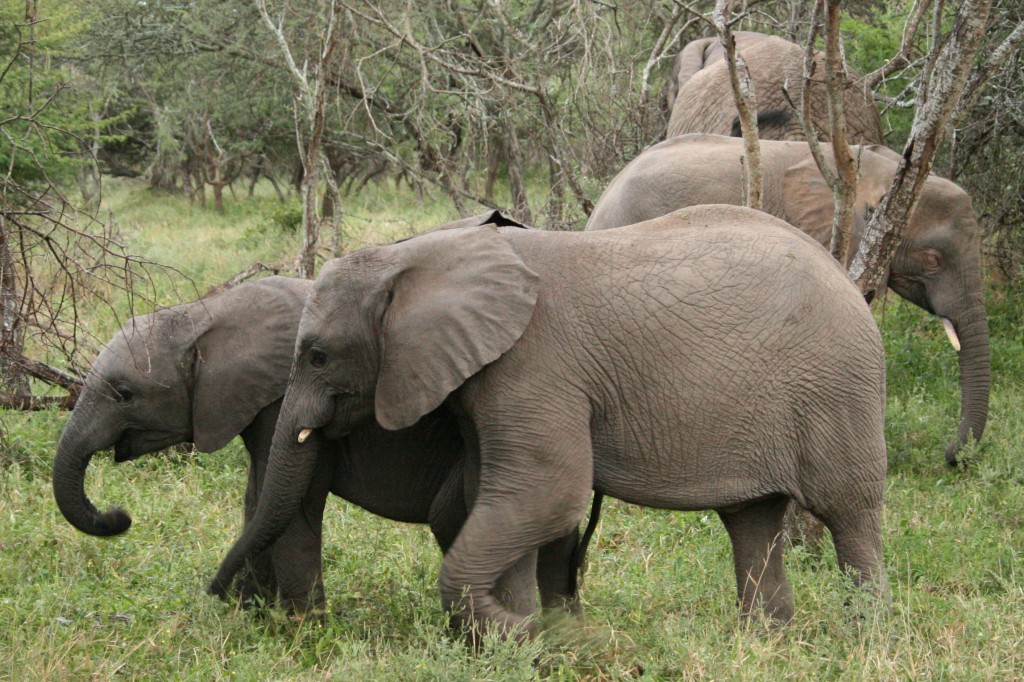 We saw four of the Big Five dangerous animals and many other exotic, beautiful and fascinating bush dwellers. The leopard did not want to be found that week but we tracked lions through creek beds, had coffee beside ruminating, elegant giraffe adults and babies and watched a large female buffalo enjoy her morning mud bath.
We followed mother and daughter rhinos, huge bottoms swaying, down a trail and came across the biggest, shiniest hippo and her son after sunset one night, that it was hard to believe they were real.
I never thought I'd get to see African animals in the wild. It was everything I'd dreamed it would be and then some. We were in their world without trying to change it in any way but when these magnificent creatures decided to interact with us, it left us breathless.