I love my denim skirt. I must have owned it for a decade. It's a Gap skirt and it's seen me through a lot!
It could do with an update though. If you remember, we distressed an old pair of boyfriend jeans here, and then patched them up when they became too torn up here.
Well, the technique I'm using today is similar.
You'll need some fine and some coarse sandpaper. This time the emphasis is on the hemline and for that, a sewing 'unpicker' will come in handy.
With the fine sandpaper, rub around the seams on the pockets, right where your hand would normally reach in. Create worn spots in a few places along the center seam, the side seams at the hips and around the back pockets. Lastly rub along the bottom of the hem in a few spots around the skirt.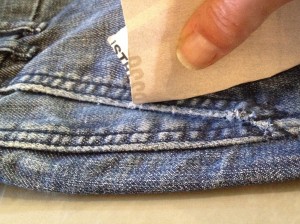 With the coarse sandpaper, rub away the surface of the fabric around the thigh area on one side of the front of the skirt. Create worn areas on the bottom part of both of the rear pockets.
Remember less is more on this one. You can always distress the denim more later. It's a lot harder to undo the damage!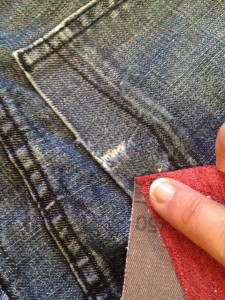 Using the unpicker, pull down threads every inch or so around the bottom hem of the skirt but try not to make the pulled threads too evenly spaced.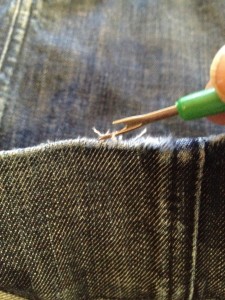 Now you've given your old skirt a new edge, wear it with wedge sandals and a fitted button-down shirt for an updated, chic look.