Indoor Citrus (source: meghancarter.com)
Bringing a large scale potted plant inside can have a big impact on a space. A tree in a pot becomes a sculptural element against a painted wall. Two matching saplings flanking a doorway, a window, or a piece of art creates a sense of symmetry.
Fiddle Leaf Figs have been the darlings of interior designers for the past couple of years, particularly the single trunk versions. What I didn't know before today, is that there are some other cool varieties you can bring inside as well. I'm excited that certain kinds of citrus and olive trees can be grown successfully indoors (there are plenty of pointers online on the specifics of caring for indoor fruit trees).
Money trees are an old favorite, but by training them into a classic tree shape with braided stems, they get a makeover. Another indoor staple, the Dracaena, grown straight up, makes it a bold, modern element.
Fiddle Leaf Figs (source: elledecor.com)
Sculptural Dracaenas source: mechantdesign.blogspot.fr)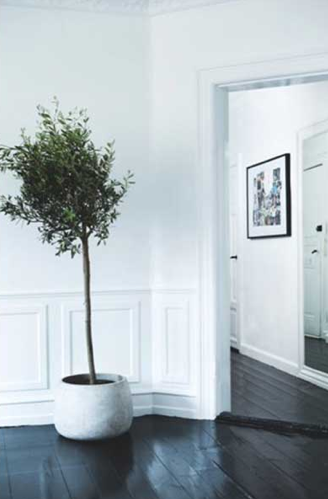 Olive tree (source: witanddelight.com)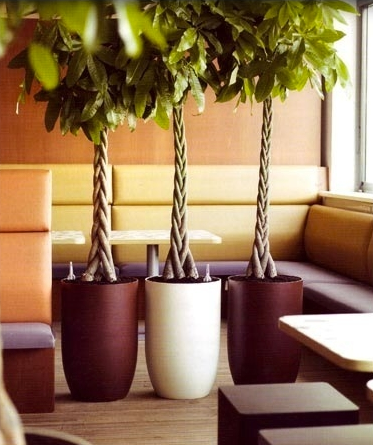 Money Tree/pachira aquatica (source: indulgy.com)