A special dessert for a family gathering or dinner party doesn't need to take hours to prepare. Designed by Australian chef, Steve Cumper, this Black Cherry Trifle is easy to make and a memorable way to wrap up an evening…and it  tastes sooo good!
You can prepare pretty much everything ahead of time, strain the cherries and reduce the syrup, break up the brownies, melt and prepare the chocolate, and whip the cream. When you're ready to serve, simply line up the bowls (this recipe serves 6) and assemble. This is going to be my go-to dinner party dessert for the foreseeable future!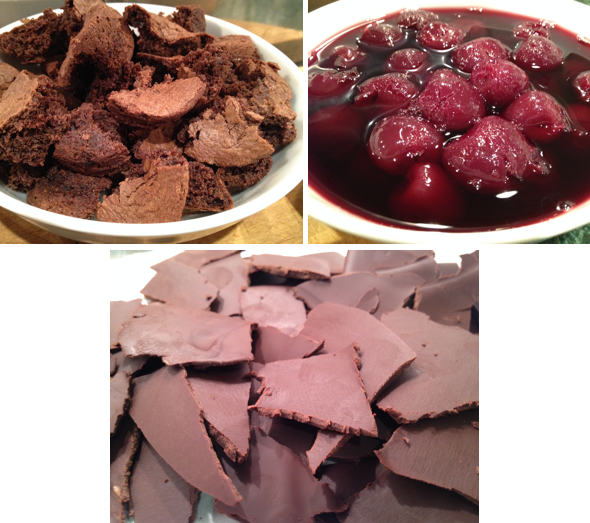 Ingredients: 200g dark chocolate, 2 x 425g cans pitted black cherries, 2 cups thickened cream, 2 cups coarsely crumbled store-bought brownies.
Line a baking tray with baking paper. Place chocolate in a double boiler (or a bowl over a saucepan half-filled with simmering water. Stir chocolate with a metal spoon until melted and smooth. Pour over baking paper on tray. Use the back of a spoon the spread the melted chocolate into a large rectangle. Place into refrigerator for 10 minutes or until set. Break into shards.
Drain cherries, reserving syrup. Place reserved syrup in a large saucepan over high heat. Bring to the boil. Reduce heat to medium and simmer for 10 minutes or until reduced by half. Cool completely.
Meanwhile, beat cream with an electric mixer until soft peaks form. Divide half of the brownies between the serving bowls. Drizzle each with a little cherry syrup. Top with half the cherries and half the whipped cream. Repeat layering with remaining brownies, syrup, cherries, and cream. Top with chocolate shards and serve.