Now is a great time to go through all of those recently worn (and not worn) summer clothes and sort them out. I need to do this job because my closet is about to be gutted and remodelled. It's not a job I've been looking forward to but it will help when I have to estimate how much space I'll need. Rather than tackle my whole closet, which can be a little overwhelming, I'm just targeting my warm weather clothes.  If you're short on time or energy, break it into smaller steps: long hang items, short hang, then drawers (one or more at a time). Don't feel like doing it now? Think of the up-side:
More space! You'll make room for your winter clothes and any incoming holiday gifts.
Feel good! You can give your lightly used things to local charity groups to distribute to people who really need them.
Look better! With less clothes you can see what you have more easily and create great outfits.
Stay organized! By tidying each drawer and rearranging your closet, everything will be at your fingertips, helping you to get out of the house faster in the morning.

Save money, make money!

 You will know exactly what you have in your closet, which will prevent you from accidentally buying multiples and allow you to see what you are missing. eg. with a pair of dressy black pants I'll be able to create 6 new day and evening outfits. You can also sell designer clothing and accessories on ebay or through consignment stores.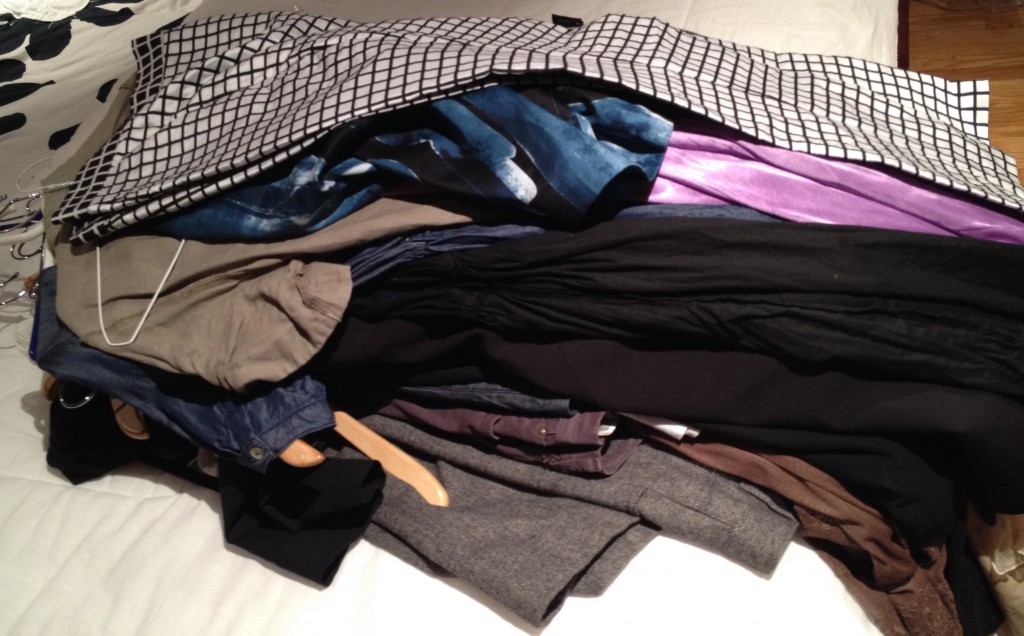 My long hang clothes…ready for sorting!
Dresses ready for the consignment store
Start with the hanging clothes – Pull them all out onto your bed. I like to make sure all of my hangers match, so this is an opportunity to pull out the wire ones. In the past I've used wooden hangers but I'm in the process of changing to thin flocked hangers to stop clothes from slipping off and creating more room.
Group like items together – create a section for pants, one for skirts, dresses, etc. As you're sorting through these clothes, pull out the summer ones you didn't wear last season (or the season before!). It's time to let them go. Put them into a trash bag.  Also place pieces into the trash bag that don't fit comfortably or felt a bit unflattering or out of fashion when you wore them. There should be nothing left on the bed when you have finished.
Empty each drawer onto the bed (one at a time) – only put back in what you love and what looks good on you. Try to create a drawer for tops, one for sweaters, etc.
You did it! – Put the filled trash bag(s) by the front door. Take them with you next time you leave the house. Drop them at your local church or in one of the many clothing bins nearby. If you have any designer items to give away, consider taking them to a consignment store or selling them on ebay, but be warned, this could become another job you don't get around to and those clothes could sit around taking up space outside your closet.
Do something nice for yourself – a scented bath, a walk, a movie…as long as it doesn't involve bringing more clutter into the house. Just for today 😉
I filled one trash bag just from my long hanging clothes…more to come!