I was inspired by those clever jewelry storage solutions collected here, last week. First, I did the clean-out. I dumped all of my bangles, earrings, necklaces, and bracelets in one place and wiped out the drawer, trays, and Ikea jewelry tree I'd been using. The best part of this process was finding pieces I'd completely forgotten about! I weeded out the out-of-fashion, the tired-looking, and the broken, only putting back what I really love plus a couple of sentimental items.
Looking around the house, I spied an old cork board in my son's room that wasn't being used. I want to get a lot of my accessories off the counter top and make more room in the drawer, plus I need to hang my finer necklaces in a way that will stop them getting so tangled.
There are lots of cork board jewelry storage ideas online. I want to personalize mine but the frame is too flimsy to pull apart so I can cover with the cork with fabric and re-attach it. Instead I'm painting it with a fresh chevron stripe in gray and white.
Start by removing all pins and lightly sanding the wooden frame (you don't need to sand the cork surface). With a slightly damp rag, wipe the cork board down to remove dust. I'm using regular house paint and because I want my frame to be a pale gray, that will be the color I use to paint the entire cork board. You may need two coats (cork is thirsty!). Once you're happy with the base color, leave it to cure for half a day.
The next step is the most time consuming. Taping off your chevron pattern. I suggest a quick lesson in how to create your design here, before you start.
I used the extra sharp edge painters tape but still ended up with leaky bits after two coats of white house paint. A tiny straight edge brush dipped into your base color helps you tidy up your lines. Leave it overnight and then add pins and jewelry!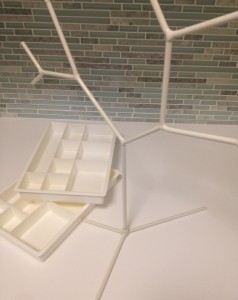 I used a combination of my old jewelry tree, and trays from Ikea, together with my newly rehabbed cork board.
It looks less messy if you keep your jewelry hanging within the confines of the board. I hung my finer chains, bulky bangles and bracelets, also drop earrings and some chunky rings. Don't hang stretchy bracelets here. The elastic disintegrates twice as fast!